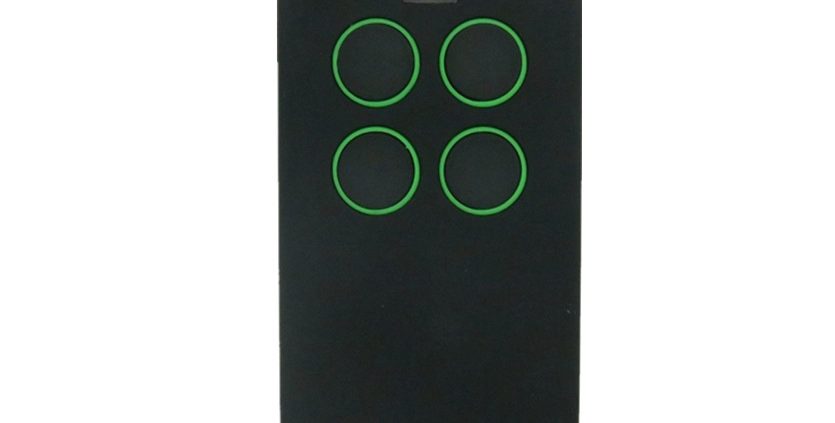 Multi Frequency 280-868 MHz Rolling Code and Fixed Code Duplicator
Up to 4 different remotes in ONE! Every button of it can be programmed as a replacement for a different brand, so using only one transmitter you can control up to 4 devices from different producers.
It is a replacement for fixed and rolling code remotes with the frequency from 280 to 868 MHz.
Rolling Code Compatibility list
ACM TX2, TX2 COLOR, TX4
ADYX TE4433H BLUE, 433-HG BRAVO AMC
AERF COMPACT, HY-DOM, MERCURI B, MERCURI C, SABUTON, MARS, SATURN, ST3/N, TERRA, TMP-1, TMP-2, UNITECH
ALLMATIC BROWN, BROWN RED, BRO.OVER, PASS, MINIPASS, TECH3 AMC
APERIO GO, GO PRO, GO MINI
APERTO (Sommer) TX02-434-2, TX02-868-2 BLUE, 4025 TX02-868-2, 4022 TX02-434-2, 4020-TX03-434, TX-03-868-4, 4013,TX03- 434-4
APRIMATIC TR2/TR4, TM4, TXM AMC
ATA PTX4 BLUE, PTX4 PINK
AVIDSEN 104251, 104250, 104250 OLD, 104250 RED, 104257, 104350, 654250
BALLAN FM400, FM400E,FM404B,4013
BESIDE BEZAP,HIT
BENINCA TO. GO. WV, TWV, ROLLKEY, APPLE, LOT WCV, CUPIDO, TO.GO. QV, IO, LOT2WCV,LOT1W,LOT2W,LOT4W,LOT1WM,LOT2W M, T2W,T4W,APPLE AMC
BFT MITTO, MITTO M ( MITTO2M/MITTO4M), MITTO RCB (MITTO RCB02/RCB04), MITTO A (MITTO 2A/MITTO 4A), MITTO B, TRC(TRC2/TRC4), GHIBLI, MURALE, KLEIO,TE01,TE02,TE04,RB4 MURALE AMC
CARDIN TRQ S449 (TRQ449100/TRQ449200/TRQ449300/TRQ449400), TRQ S449 GREEN (PRECODE), TXQ S449 (TXQ449200/TXQ449300/TXQ449400), TXQ S449 GREEN, TRQ S486 (TRQ486200/TRQ486400), TXQ S486 (TXQ486200/TXQ486400), S437 TX, XRADO,S449,S476TX2,S476TX, S486 AMC
CASALI JA33 AMIGO, GENIUS/CASALI A252RC
CASIT ERTS92B,ERTS92T,ERTS476D,ERTS20DQ,ERTS476D, ERTS476Q
CELISA S10 1, S10 2
CENTURION CLASSIC,NOVA,SMART
CHAMBERLAIN/LIFT MASTER/ MOTOR LIFT 953ESTD, 371 LM, 971 LM, 84330E, 94334CE, 94333E/94334E/94335E, 9747E, 1A5639-7, 1A5477, 1A6487, 132B2372, 94330EML/9333EML/94335EML, 84330EML/84333EML/84335EML, 8747EML
CLEMSA MUTANCODE, T, T-8, E-CODE N, MASTERCODE MV
CPS TCP3,CPS1,TCP3,CPS2,TCP3,CPS4,TCP3
DASPI HAPPY2,POPS 2, ZERO RC( ZERO 2RC,ZERO 4RC) AMC
DEA TR MIO,133 1,433 2,433 4,GENIE,PUNTO S2, PUNTO 278, GOLDR, GENIE R 273, GENIE R-GT2N
DELMA MIXARD 433 1, MIXARD 433 2,KING 433 2
DICKERT MAHS433 01, MAHS433 04
DITEC GOL,GOL4C,BIXLS2,BIXLP2,BIXAG4, BIXLG AMC DOITRAND MPSTF2E,JAUNE
DOORMATIC SAW
DOORHAN TRANSMITTER 4
DUCATI TSAW1,TSAW2,TSAW3,124,TE2
ECOSTAR RSE,RSC,RSZ
ELBE 501,502,504,502A,504A
ERREKA IRIS, ROLLER 2, ROLLER 433, ROLLER 868, SOL433, SOL868, VEGA 433, VEGA 868
ELCA IRIS,ASTER 2,ASTER 1000,ASTER 1001
FAAC XT2 433 SLH, XT4 433 SLH, XT2 433 SLH LR, XT4 433 SLH LR, DL2 433 SLH, DL4 433 SLH, TML2-433-SLH LR, TML4-433-SLH LR, XT2 868 SLH, XT4 868 SLH, XT2 868 SLH LR, XT4 868 SLH LR, DL2 868 SLH, DL4 868 SLH, TML2-868-SLH LR, TML4-868-SLH LR AMC
https://scimagic.com.cn/wp-content/uploads/2017/11/multi-frequency-280-868-MHz-duplicator.jpg
530
835
administrator
https://scimagic.com.cn/wp-content/uploads/2017/03/LOGO-01.png
administrator
2017-11-04 07:05:41
2017-11-04 07:38:47
How to makes 4 different remotes with different frequency in ONE? Our multi frequency 280-868 MHz duplicator can make it come ture!